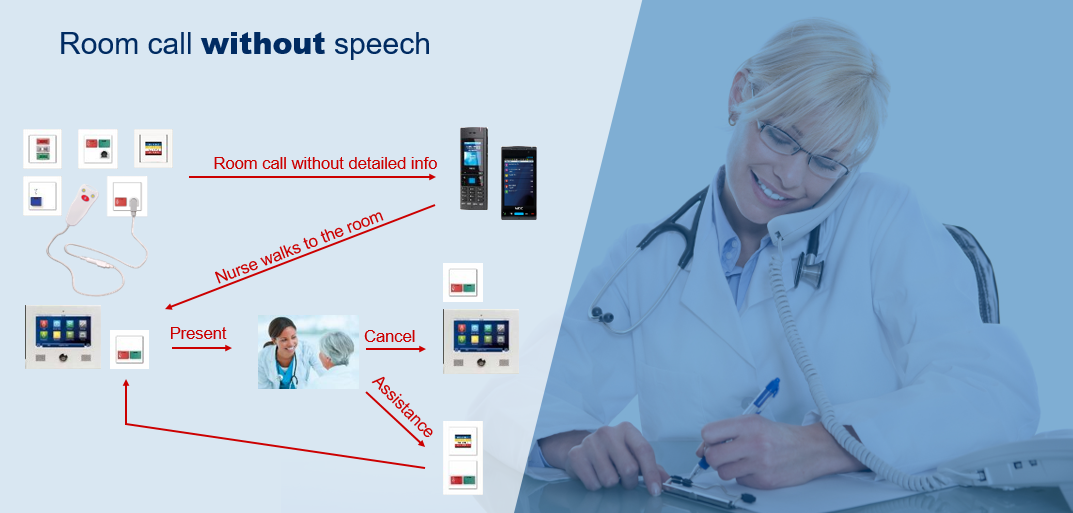 iCall – IP Nurse Call is one of the first Full IP nurse-systems in the world, designed according to open IP standards with highly flexible infrastructure topology.
The iCall system is suitable for modern new projects as well as being flexible in upgrading and converting the existing nurse call system in operation to the new system and reusing almost every element of the infrastructure. now available.
iCall offers a wide range of nurse call devices, from basic functionality to premium SIP-to-the-room nurse call devices with color touch screens.
iCall is designed with a distributed structure without a central device or a server to run the system, and any IP network can be used to connect any IP Sub-Station in the system.

SUPERIOR MODERN FEATURES:
The iCall system integrates seamlessly with the NEC Univerge Communication Server platform for voice and messaging applications on DECT terminals and Smartphones.The SIP Touch online nurse unit provides standard SIP voice functionality with a 7" touch screen. This device communicates directly via TCP/IP with the Notification Gate device and the SIP or NEC PBX server, registered as a SIP subscriber on the SIP server, unlimited concurrent calls between residents or the patient and the nurse. The module is supplied in wall-mount or flush-mount form.Nurse PC Desk with 15.6" touch screen manages and operates nurse devices directly via Web interface. Displays real-time events on patient calls, nurse presence, assistance, emergencies, ID cards using RFiD technology, or any additional information from the person used.Wireless nurse calls in the form of a wristband – or necklace for patient locating and integration with door monitoring systems.The Novilog Event Logging and Netrix applications for event log reporting purposes, integrate with stand-alone systems such as alarm systems, fire alarm systems, wireless networks, IP systems- PBX, and Room Control systems.