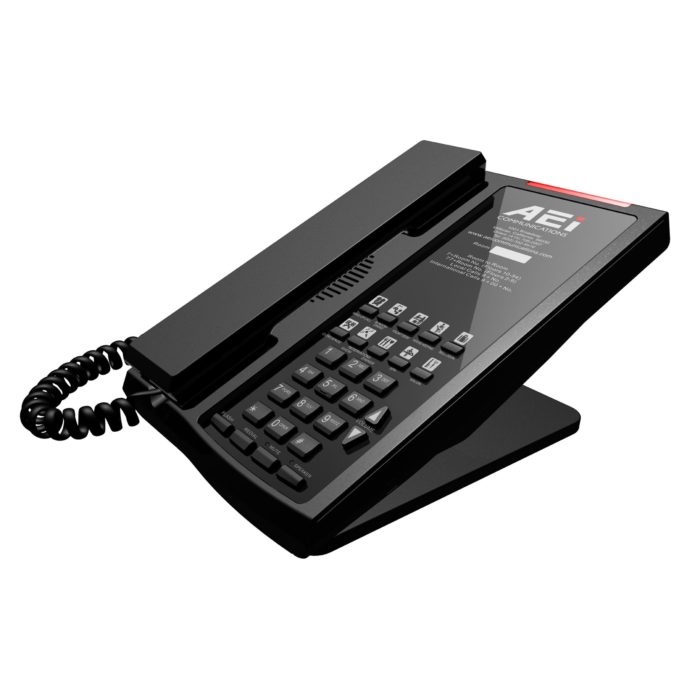 Single-Line Analog Speakerphone – ASP-6110-S
AEi's Single-Line ASP series is a durable and elegant speakerphone that's perfect for a wide variety of applications. Your guests will enjoy a premium quality speakerphone, and the ASP series' timeless styling blends right in with your room design.
With AEi dependability and thoughtful design, the ASP series – like all our phones – is designed to reduce or eliminate your maintenance headaches once and for all!
Description
Single-Line Analog Base
• Full Duplex speakerphone
• Redial, Hold, Mute, Message, Volume Control
• Message waiting, Ring Indicator
• Fully interoperable with all popular hospitality IP PBXs
• Up to ten (10) programmable guest service keys
• ADA-compliant volume control
• Easy management with Web-Based GUI & auto-provisioning
Specifications
Product Spec
ASP-6110 Single-Line Non-Speakerphone
ASP-6110-S Single-Line Speakerphone
ASP-6100-S Single-Line Speakerphone w/o Guest Service KeysColor
Black Standard

Finish
Textured

Faceplate
Customizable Faceplate 205mm x 80mm

Power
Line Power; 24V to 56V

Signaling
Standard DTMF

Flash Timing
600ms and 300ms

Ring Equivalence
Z

Handset 
Hearing Aid Compatible

Jacks
RJ11 Line, RJ11 Data and RJ9 HandsetCords
10′ Line Cord (15′ upon request) & 10′ Coiled Cord

Dimensions 
230mm(L)x160mm(W)x45mm(H) (9.06″x6.30″x1.75″)

Weight
840g

EMI, SAR & PTSN
USA Part 15B, 15D
Europe
EN 3014089-1, 3014089-6, 301406
EN 50360, 50361
TBR 21

RoHS 
Complies with directive 2002/95/EC RoHS

Temperature
Storage: -10º C to +60º C
Operating: 0º C to +45º C