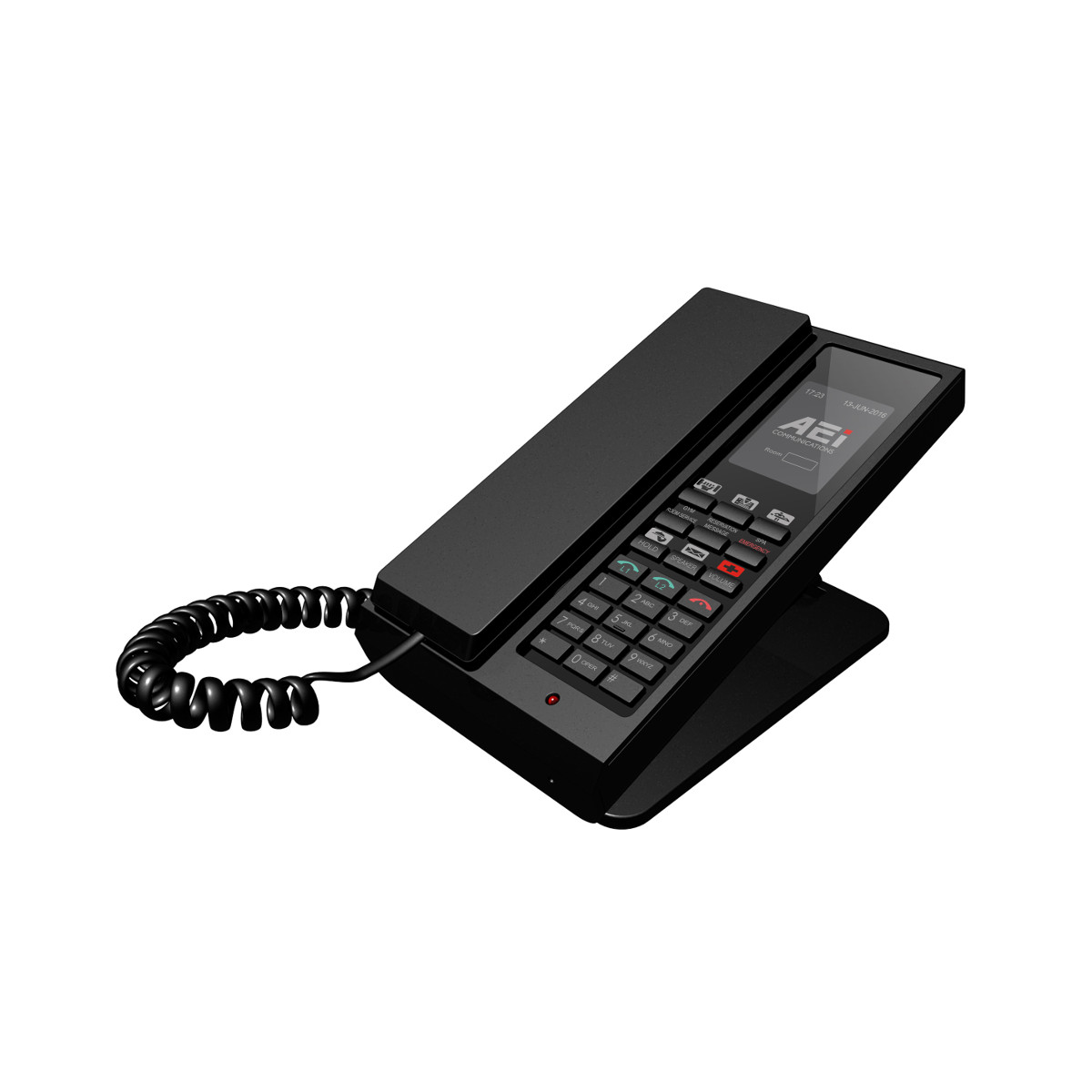 Dual-Line IP Corded Speakerphone (master) – SGR-9206-SM
Our SGR series of VoIP phones deliver state-of-the-art IP technologies that enable you to unlock the true value of your IP investment. Deploy the SGR series as a feature-rich corded IP phone with a display. Or enable the cordless base functionality to operate DECT handsets off the same base. Perfect for saving money on VoIP port licensing fees!
Easier management, greater guest service, and better cost control are at the heart of every one of AEi's advanced VoIP solutions.
Description
• Two Lines Speakerphone
• Controls up to 4 cordless extensions
• Hold,Speaker and Volume Control
• Message Waiting and Ringer Indicator on Base
• Full Duplex Speakerphone
• Up to six (6) programmable guest service keys
• Room Number Displayed on Base
• Unigue Customizable Faceplate
• ADA-compliant volume control
• Easy management with Web-Based GUI & auto-provisioning
Specifications
Codec 
G.711Protocol 
HTTP server
Static / DHCP IP assignment
ToS / VLAN IEEE 802.1 p/q

SIP 
SIP V2 (RFC3261)

Security
Web authentication for setup
MD5 for SIP authentication
(RFC 2069/ RFC2617)

DTMF 
In-Band / Out-of-Band DTMF
(RFC2833) / SIP Info (RFC2976)

Voice Quality 
Comfort Noise Generator
Echo canceller: LEC / AEC
Jitter buffer/PLC

Keys 
Std. DTMF Dial Pad; Line keys
with red/green LEDs; Hold, Redial,
Message, Volume +/-, Conference,
Mute, Speaker, Speed Dials

Administration 
Web GUI configurable
Firmware upgrade via TFTP/HTTP
Auto-provisioning

Power 
Standard: PoE module: class 0
Optional: Wall Power

Indicators & Features 
Line Status; Hold; Conference; Mute;
Speaker; Message Waiting; Ringing

Jacks 
RJ45 10/100 Mbs; LAN port x 1, DC jack x 1, RJ9 Handset jack x 1

DECT Master Standard 
DECT / GAP compatible
Radio Frequency Range: 1880 – 1930 MHz
US: 1921.536 (ch0) – 1928.448 MHz (ch4)
EU 1881.792 (ch0) – 1897.344 MHz (ch9)
Channel Spacing: 1728 KHz
Bit rate: 1150 Kbit/s
Modulation: GFSK
Voice coding: 16 Kbit/s
Transmit power: 100 mW
Range (outdoors): 300 m (984 ft.)
Range (indoors): 50 m (164 ft.)

Faceplate 
Durable full length custom plastic

Cords 
Line cord (10' std.)

EMI 
USA: Part 15B, 15D
Europe: EN 550221

Safety 
Europe: EN 60950-1

EMC 
Europe: EN 55024; EN61000-3-2
EN61000-3-3; EN61000-4-2
EN61000-4-3; EN61000-4-4
EN61000-4-5; EN61000-4-6

RoHS 
Complies with directive 2002/95/EC
RoHS (2005/613/EC)

Temperature 
Storage: -10º C to +60º C
Operating: 0º C to +45º C

Colors 
Black, Ash (Custom colors on request)

Dimensions 
195mm(L)x110mm(W)x50mm(H) (7.68″x4.33″x1.97″)

Weight 
714g