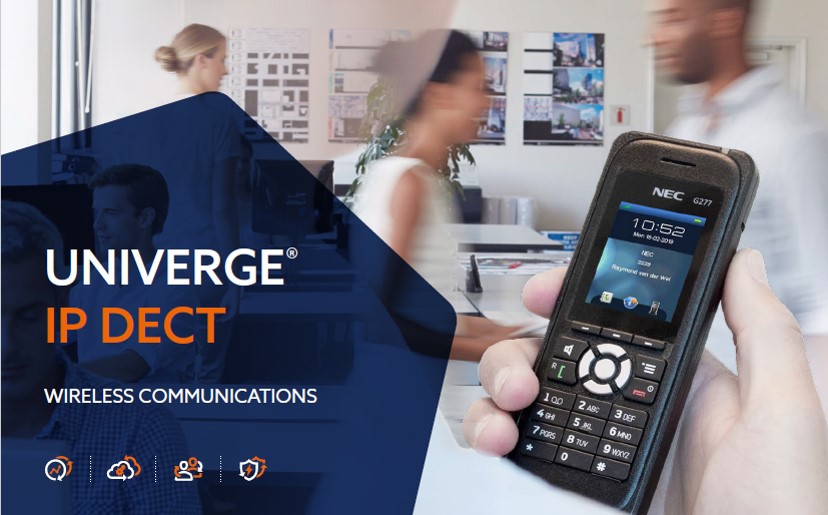 Nowadays, the business environment demands flexible working practices and professional customer service. Businesses and organizations are always looking for solutions that extend the reach of their converged voice and data networks and integrate wireless communications without compromising on voice quality, availability, and security, and NEC's IP-DECT system does this and more.
All NEC DECT handsets provide excellent conversational audio quality: clear sound quality, hands-free speakerphone support, seamless roaming and roaming (Roaming), High security with DECT authentication technology, and synchronous connection with NEC's switchboard system. Applications include Business Directory, activity status, text messages, alerts, and location detection.
DECT handsets help users communicate flexibly, easily, and securely as they move across large areas while providing most of the features and functions of a desktop phone along with innovative mobile features such as text messaging, alarms, programmable keys, and compatible integration with third-party applications.
| | |
| --- | --- |
| | DECT HANDSET |
> DECT HANDSET G277- COMPACT, PROFESSIONAL EQUIPMENT FOR OFFICE USERS
DECT handset G277 is a professional handset that offers a wide range of unified communications communication features. Easy to use and install for office users.
> DECT HANDSET G577- PROFESSIONAL HANDSET DEVICE WITH ALERTS AND TEXT MESSAGE FEATURES
DECT handset G577 is a high-end handset device with warning and messaging features, suitable for hotel and hospital operating environments..
> DECT HANDSET G577h- PROFESSIONAL HANDSET EQUIPMENT IN HOSPITAL ENVIRONMENT
The G577h version with antibacterial properties is designed specifically for hospital environments, health care centers…
> DECT HANDSET G766- PROFESSIONAL HANDSET EQUIPMENT FOR SPECIAL ENVIRONMENTS
DECT handset I766 is a high-end handheld device recommended for use in special environments such as factories, industrial parks, or explosion-proof areas. For those working in potentially dangerous situations, the DECT I766 handheld device with alarm options will help those involved find and contact this person when needed.
> DECT COMMUNICATOR M166- DECT Wristband FOR PATIENTS
DECT M166 Communicator is a personal communication device with an alarm feature, ideal for providing safety to patients and the elderly, in care and treatment facilities, as well as providing support to them. in emergencies.