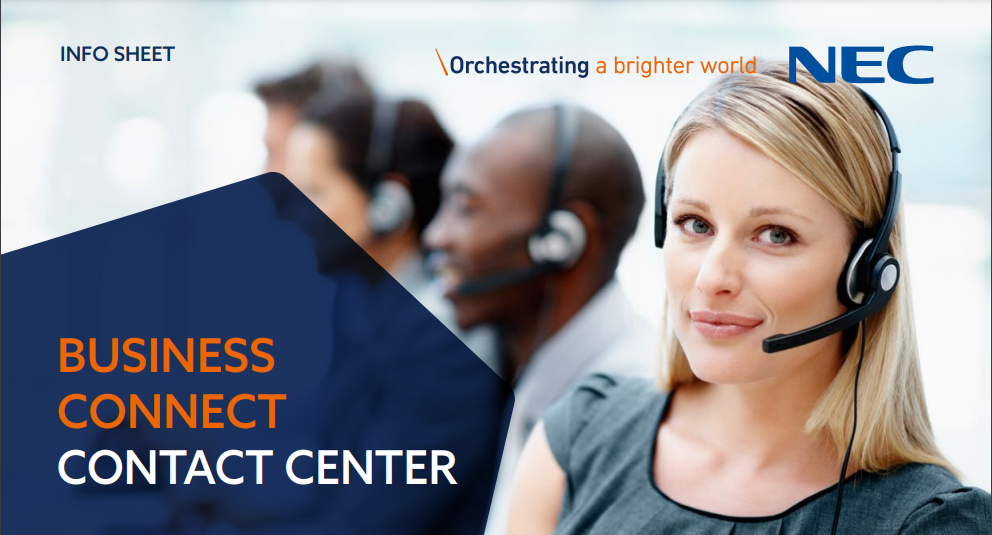 NEC UNIVERGE® Business ConneCT unified communications suite integrates all communication streams including voice channels, SMS, Web chat, and social networks, and displays them in a single live view. mandarin. Deployment is simple and cost-effective, with three user modes – Employee, Operator, and Contact Center – using the same facility Data, common user interface, and all are managed and operated from one central point.

Key features of Business ConnectCT Contact Center:
> Integrate multiple communication channels such as phone, E-mail, Webchat, and various social media for agents.
> Make the most of your agent's skills across different call-handling flows.
> Automatically route incoming calls, Webchat, and E-mail to agents based on the language or service requested.
> Route calls, web chats, apps, and emails to agents based on language, skill, or service.
> Telephone operators pick up calls right on the queue.
> Enable agents to work from any location: in the office, at home or on the road.
> With the Callback feature, customers do not have to wait in line to be served, minimizing the situation of calls being abandoned midway.
> Flexibility in adding additional resources to agents to improve work performance at each specific time.
> Dashboards, real-time dashboards with reports on performance analytics.
> Monitor and evaluate agent performance, customer behavior, and service trends.
> Toolkit for reports to optimize agent service levels
> Intuitive user interface with a role-switching feature for users