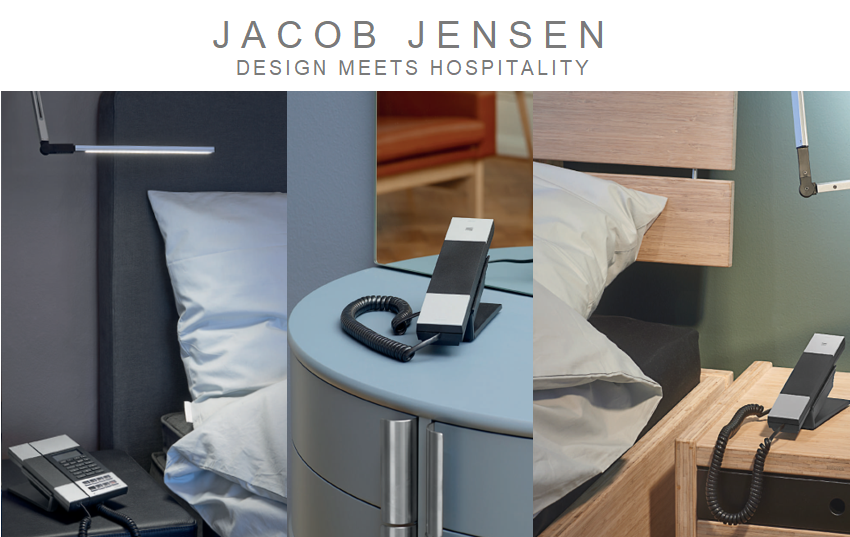 The Scandinavian designer Jacob Jensen established his studio in 1958 and over the following decades created the revolutionary, pure and now classic form language which has made him one of the world's most recognised designers. Jacob Jensen has 19 products included in The Design Study Collection and The Design Collection of The Museum of Modern Art in New York.
Jacob Jensen's son Timothy Jacob Jensen has established the trademark JACOB JENSEN and clarified the universal potential of the form language by transferring it to many product groups. Bell Xpress has been an important player on this journey and has fathered the product line presented in this catalogue.
This catalogue shows the JACOB JENSEN™ Telephone Series as well as selected products for hotel guest rooms and hotel gift shops. Equipped with various features the telephones have one thing in common: they are all very suitable for hotels. Further, the unique design completes the room refurnishing and adds "that little something" to the overall impression giving the guest an even more beautiful stay at your hotel.
Tệp khách sạn đã sử dụng điện thoại JACOB JENSEN™:
Lotte West Lake, Hanoi, VietNam
QO Amsterdam by IHG, The Netherlands
Mandarin Oriental, Doha, Qatar
M Gallery by Sofitel, Karkoy, istanbul
Edition by Marriott, Barcelona, Spain
JW Marriott Seoul, South Korea
Marriott Chandris, Athens, Greece
Waldorf Astoria, Maldives
Ritz Carlton Budapest Hungary
Holiday Inn Express Karlsruhe
Marriott Hotel Berlin,Germany
InterContinental Bucharest Romania
Royal Hotel Seoul, Korea
TELEPHONE HT60
Analog or IP phone
Choose from wired or wireless models.
Display incoming call number (Caller-ID), support FSK and DTMF.
The automatic incoming call number is not displayed after 30 seconds.
8 service keys – programmable according to user requirements
Hands-free calling mode.
Voice message indicator light.
Automatically disconnects when the phone signals busy
Display room number.
Desktop or wall-mounted
Meets EMC standards: EN 55022 and EN 55024
Choose from a variety of colors according to the room's interior design
TELEPHONE HT20
Analog or IP phone
Choose from wired or wireless models
Service key – programmable according to user requirements
The dial key is located on the headset
Desktop or wall- mounted
Adjust the volume
Message indicator light
Choose from a variety of colors according to the room's interior design